Milling

Milling is the process of cutting away material by feeding a workpiece past a rotating multiple tooth cutter.

The cutting action of the many teeth around the milling cutter provides a fast method of machining.

The machined surface may be flat, angular, or curved. The surface may also be milled to any combination of shapes.

CNC Turning

Turning is the process whereby a single point cutting tool is parallel to the surface.

A computer controlled and automated lathe is referred to as having computer numerical control ( CNC ).

When turning, a piece of material
(wood, metal, plastic, or stone) is rotated and a cutting tool is traversed along 2 axes of motion to produce precise diameters and depths

Welding and Fabrication

Metal Fabrication is the forming of metal, usually steel plate, into various forms either by welding or other forms of metal joining processes.

A metal fabricator has to be able to interpret engineering drawings and then accurately cut steel plates into the required shapes.
Contact
Us
Our considerable experience and skill base, coupled with our dedication to quality has given us a loyal customer base who can expect to receive products manufactured to an exacting standard, delivered on-time and with first class communication during the project life cycle.

Brightera would therefore welcome the opportunity to discuss any requirements you may have and offer you our most competitive price and service.






CNC and more,
all tailored for you

Brightera Engineering Ltd
Unit 2, Beverley Trading Estate,
Morden, Surrey. SM4 4LU
Telephone : 020 8337 5161
Email: info@brightera.co.uk
Welcome to Brightera
Established in 1995, Brightera Engineering Ltd is a family business and has developed a strong reputation for delivering bespoke, specialised precision engineering projects on time and to challenging specifications.
Accuracy, reliability and detail is the backbone of our ethos and approach and we are proud to be the preferred supplier to many organisations across a number of sectors.
Challenging, complex component manufacture is where we excel, whether it be from the initial design concept of the part, to the first prototype piece and finally to the full batch production run.
Our ability to machine and manufacture a variety of components using the latest materials ensures we deliver the most effective solution for our customers.

All our precision machined components are then inspected to a high level of scrutiny and detail, until we are confident that each and every element is flawless.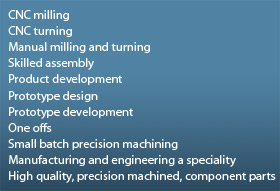 Engineering Precision
Brightera Engineering Ltd have many years of manufacturing and assembly experience.

Our in house facilities include CNC Milling, CNC Turning, CNC Sliding Head, Welding, Fabrication and Engineering Precision.
Currently we have a very diverse client base, operating in different sectors as diverse as :
• Interactive, Point Of Sale Suppliers
• High Street Shops / Retail / Hotels
• Bespoke, Point Of Sale for Sony
• Bespoke Parts For Bikes / Cars
• Laundry [Emergency] Repairs
• Display Stands / Point Of Sale
• Motor Industry Components
• Textile Business / Factories
• Medical & Pharmaceutical
• Bespoke, One Off Requests
• Glass Manufacturers

We can cater for one off prototypes right through to medium batch manufacture.

We also offer a full in house design to manufacture service, including assembly.